Since last summer, the Corpus Christi area has emerged as the U.S.'s leading crude export venue. In the first five and a half months of 2020, it accounted for an astounding 45% of the barrels being shipped abroad — astounding because in the same period last year, the Corpus area held less than a 20% share. What is sometimes forgotten, though, is that little Ingleside, TX, located across Corpus Christi Bay from Corpus proper, is the area's crude-export leader, with the Moda Midstream and Flint Hills Resources terminals responsible for just over half of Greater Corpus's total export volumes. And, with the new South Texas Gateway Terminal nearing completion, Ingleside's role will only increase in the coming months. Today, we conclude a series on Gulf Coast export terminals with a look at what has been going on in Ingleside.
In Part 1 of this series, we looked at the Seaway Freeport and Seaway Texas City terminals, both of which are part of Enterprise Products Partners and Enbridge's broader Seaway Crude Pipeline (SCP) system. Part 2 reviewed the Houston Fuel Oil Terminal (HFOT), now owned by Energy Transfer, and the Seabrook Logistics Marine Terminal, which is jointly owned by Magellan Midstream Partners and LBT Tank Terminals. In Part 3, we examined Enterprise Hydrocarbon Terminal, or EHT, which is one of the largest energy-related marine terminals on the Gulf Coast, and in Part 4, we focused on the three crude export terminals in the Beaumont/Nederland, TX, area. Next, in Part 5, we looked at the Louisiana Offshore Oil Port (LOOP), which is the only Gulf Coast terminal that can fully load 2-MMbbl Very Large Crude Carriers (VLCCs); LOOP is also a major crude import terminal. In Part 6, we turned our sights to the Corpus area and reviewed the three newest facilities along the Corpus Christi Ship Channel's Inner Harbor area: Eagle Ford Terminals, the EPIC Midstream Terminal, and Pin Oak Corpus Christi. Lastly, Part 7 discussed Inner Harbor terminals owned by NuStar Energy, Valero Energy, and Buckeye Partners.
There are a number of reasons the Corpus Christi area has become a leader in crude exports. As we've noted previously, Corpus is a refining center, with nearly 850 Mb/d of refinery capacity, and that it is the closest port city to the Eagle Ford and Permian production areas, the latter of which is by far the U.S.'s leading crude oil production area. Just as important, the Corpus area is the terminus of three new, big-diameter pipelines from the Permian — Cactus II (670 Mb/d), EPIC Crude (600 Mb/d), and Gray Oak (1 MMb/d) — all of which have come online since last August. The trio's combined capacity is enough to handle about half of the Permian's current production.
Having already discussed the six crude-handling marine terminals along Corpus Christi's Inner Harbor, we shift our focus today to the two existing — and one planned — terminals in Ingleside, a city of 10,000 in the southeastern corner of San Patricio County. Ingleside is no backwater; it is sited along the La Quinta Ship Channel, an important spur off the main ship channel that has an identical water depth of 45 feet and plans for a dredging project that will increase that depth to 54 feet by the end of 2021. We begin our look at Ingleside's terminals with Moda Midstream's facility.
Moda Ingleside Energy Center
Moda Midstream acquired Occidental Petroleum's Ingleside marine terminal in September 2018, and has been working ever since to (1) develop millions of barrels of additional storage capacity to support export growth, (2) directly connect the facility to the new Permian-to-Corpus pipelines, and (3) increase the terminal's ability to quickly and efficiently load large volumes of crude onto the supertankers that many international shippers favor, namely 1-MMbbl Suezmaxes and 2-MMbbl VLCCs.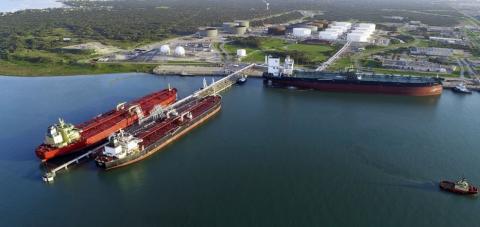 Moda Ingleside Energy Center. Source: Moda Midstream
The terminal, now known as the Moda Ingleside Energy Center (MIEC; pictured above in Figure 1 and the blue terminal icon in Figure 2), had 2.1 MMbbl of storage capacity when Moda bought it. Since then, the midstream company has added 9.5 MMbbl of new tankage, bringing its current total to 11.6 MMbbl, and Moda is building another 3.5 MMbbl that will be completed by the first quarter of 2021. Moda also has permits in hand for yet another 5.5 MMbbl or so of additional crude storage. The terminal has ample expansion capabilities beyond that with its 900-acre footprint. (MIEC also has a refrigerated LPG storage and vessel-loading system, and we understand that MIEC is in advanced discussions to provide these services.)
To maximize the efficiency and vessel economics for its customers, Moda has seven dedicated harbor tugs and is also constructing 240 Mbbl of bunker storage capacity that will be completed in the coming months (more on this in a moment).
As for pipeline connections, all three of the new crude pipelines from the Permian — Cactus II (yellow line in Figure 2), EPIC Crude (olive-green line), and Gray Oak (bright-green line) — flow directly into MIEC. Also, Plains All American and Enterprise Products Partners' Eagle Ford Joint Venture Pipeline (orange line), which transports crude from the original Cactus Pipeline's Gardendale terminus to the Inner Harbor area, is connected to MIEC via Moda's 300-Mb/d Viola Pipeline (blue line), and Harvest Midstream's planned 600-Mb/d Midway-to-Ingleside pipeline (dashed green line), now under construction, will link Harvest's new Midway terminal (white star) to MIEC by the end of this year. (Harvest's Midway terminal will receive crude from Harvest's Eagle Ford pipeline system.) Moda also has storage and connectivity at the Midway Terminal via its Viola Pipeline, along with connections to other pipelines and facilities in the area.
The direct pipelines from the Permian to the Moda terminal offer at least two important benefits. First, Cactus II, EPIC, and Gray Oak charge some of the lowest pipeline rates of any Permian-to-Gulf Coast pipelines and eliminate the need to transfer crude from one pipe or system to another — and, in some cases, another and yet another — on the way to an export terminal, which keeps total transportation costs super-low. Second, the ability to batch crude oil straight from the Permian to customer-specific tanks at MIEC allows shippers to fully maintain crude quality from the basin to the vessel, which can be negatively impacted if oil needs to flow through multiple terminals and pipelines. This provides each shipper with quality assurance, which is particularly important for the global market.

Ingleside Terminals and Related Pipelines. Source: RBN
MIEC has three existing berths — 2A, 4 and 5 — and room for more, should they be needed. Moda has been ratcheting up the ability of the terminal's berths to allow larger tankers to be loaded there. For example, Berth 5, while now capable of loading only Aframax-class vessels, by mid-July will be able to load Suezmaxes thanks to dredging and loading-arm and dock modifications. Berth 4, in turn, can now load Suezmaxes, but by the end of 2020, it will be able to load as much as 1.25 MMbbl onto 2-MMbbl VLCCs — something Berth 2A can already do. Further, when the dredging of the ship channel to a depth of 54 feet is completed by the end of next year, berths 2A and 4 will both be able to load as much as 1.5 MMbbl onto VLCCs. MIEC has the capacity to load a total of 160 Mb/hour onto tankers at its berths, more than any other crude export terminal along the Gulf Coast.
As we said in Berth in Reverse, partially loading VLCCs reduces the need for reverse lightering in the deeper waters of the Gulf of Mexico — and the demurrage and other costs associated with reverse lightering with smaller shuttle tankers. Our understanding is that, to optimize efficiency, shippers partially loading VLCCs at MIEC will typically load an Aframax or a Suezmax at the same time and send both vessels out in parallel so the VLCC can be topped off as soon as the two supertankers arrive at the offshore lightering/reverse-lightering zone. As noted above, to further increase the efficiency of its operations at MIEC, Moda is building three 80-Mbbl tanks for bunker fuel, which will allow supertankers to fill-'er-up at the berth, saving time in the process.
According to data from RBN's Crude Voyager report, Moda's Ingleside terminal in 2018 exported 63 MMbbl, or about 172 Mb/d; last year, export volumes at the terminal doubled to 127 MMbbl, or 348 Mb/d, with the pace of loadings ramping up last summer and fall when the Cactus II and EPIC pipelines came online. So far in 2020, 102 MMbbl, or 626 Mb/d, have been loaded at MIEC, which is more than any other Gulf Coast terminal. Some 126 vessels have been sent out from Moda in the past five-plus months — including about 27 partially loaded VLCCs, almost all of which were bound for the Asia-Pacific region. We estimate that the Moda terminal can sustainably load more than 1.2 MMb/d.
Flint Hills Resources Ingleside
The terminal (yellow terminal icon in Figure 2), owned by Flint Hill Resources, a unit of Koch Industries, is located alongside Moda Midstream's MIEC and has similar access to the 45-foot-deep ship channel. Flint Hills Resources Ingleside, a.k.a. FHR Ingleside, has 3.5 MMbbl of crude storage capacity and two docks, one capable of loading up to a Suezmax-class tanker and the other suited for Aframaxes and smaller vessels. Like the nearby MIEC, the FHR terminal is directly connected to the Cactus II, EPIC Crude, and Gray Oak pipelines; it also will be linked to Harvest Midstream's planned Midway-to-Ingleside pipeline, which as we said earlier will link Harvest's new Midway terminal to the Ingleside area by the end of this year. Lastly, FHR Ingleside is connected to Flint Hills Resources' refinery on Corpus Christi's Inner Harbor (gray refinery icon) and can receive crude from Eagle Ford and legacy South Texas production via the company's North and South Crude System (hot-pink lines).
According to Crude Voyager data, FHR's Ingleside loaded just under 24 MMbbl of crude oil, or 66 Mb/d, in 2018. In 2019, those numbers dipped to just under 23 MMbbl, or 63 Mb/d; 37 vessels loaded at the terminal last year, including 12 Suezmaxes. So far in 2020, 15.6 MMbbl, or 98 Mb/d, has been loaded at FHR Ingleside onto 25 vessels, four of them Suezmax-class tankers. We estimate the terminal's sustainable loading capacity at 380 Mb/d.
South Texas Gateway Terminal
The new South Texas Gateway Terminal in Ingleside, scheduled for completion in the third quarter of 2020, is a joint development of Buckeye Partners (50%), Phillips 66 Partners (25%), and Marathon Petroleum (25%). The terminal (purple terminal icon), which we'll blog about in more detail when it comes online, will have 8.6 MMbbl of storage capacity with the potential to expand to 10 MMbbl; it also will have two docks, each capable of partially loading VLCCs, as well as Suezmaxes and smaller tankers. The facility's maximum simultaneous loading rate will be 120 Mb/hour.
Like Moda, the Gateway terminal initially will be able to load as much as 1.25 MMbbl onto VLCCs, which then will be reverse-lightered in the Gulf to their full, 2-MMbbl capacity. When the dredging of the ship channel to 54 feet is completed a year and a half from now, the terminal will be able to load as much as 1.5 MMbbl onto VLCCs before sending them out for topping off in still-deeper waters offshore. We estimate the South Texas Gateway Terminal's sustainable loading capacity at 800 Mb/d.
That concludes our terminal-by-terminal look at the Gulf Coast's crude export facilities, but we're not quite finished with this topic. Later this month, we will publish a Drill Down Report on the terminals that will include an estimate of the region's total crude export capacity and an update of plans for new terminals that would be capable of fully loading VLCCs. We'll also provide an assessment of the near- and mid-term outlook for crude export volumes.
"How Much More Can She Stand" was written by Harry Compton, and was the first single released from Conway Twitty's 1971 album of the same name. The song also appears on the 1973 release, Conway Twitty's Greatest Hits, Volume I. "How Much More Can She Stand" was recorded at Bradley's Barn in Mt. Juliet, TN, in February 1971, and produced by Owen Bradley. Released as a single in March 1971, the song went to #1 on the Billboard Hot Country Songs Singles chart. It would become Twitty's sixth #1 solo hit single. Personnel on the record were: Conway Twitty (lead vocals), Joe E. Lewis (background vocals), The Jordanaires (background vocals), Harold Bradley (electric six-string bass), Grady Martin (electric guitar), Larry Butler (piano), Jimmy Capps (acoustic guitar), John Hughey (steel guitar), Tommy Markham (drums, percussion), Bob Moore (bass) and Herman Wade (electric guitar).
Conway Twitty (Harold Lloyd Jenkins) was an American country music singer; he also left his mark in the rockabilly, rhythm and blues, and pop genres. Besides his solo work, Twitty had several hits with his duet recordings with Loretta Lynn. As a solo artist, he released 58 studio albums, 20 compilation albums, and 99 singles. With Loretta Lynn, he released 10 studio albums, seven compilation albums and 13 singles. Twitty has sold more than 50 million records worldwide. He won seven Academy of Country Music Awards, four Country Music Association Awards, and two Grammy Awards, and is a member of the Country Music Hall of Fame and the Rockabilly Hall of Fame. Twitty had just inked a deal to open a new theater in Branson, MO, the day before his death in June 1993. He was 59 years old.